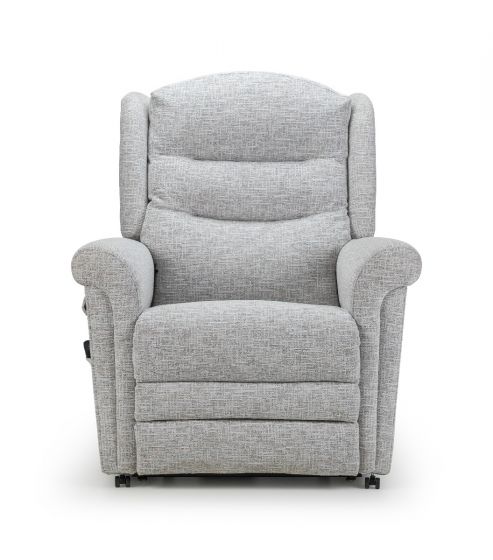 The Buxton
Dual motor lift chair with a power headrest and powered lumbar support
The Buxton is a luxurious dual motor lift chair with a unique letterbox back, extended footrest, and powered lumbar support and headrest. Available in a variety of colours, The Buxton is the latest edition to the Hudson Range.
Specifications
Seat depth
Compact: 508 mm (20")
Standard: 508 mm (20")
Seat width
Compact: 533 mm (21")
Standard: 533 mm (21")
Weight capacity
Compact & Standard: 25 St (158 kg)
Top of back to seat
Compact: 470 mm (18.5")
Standard: 495 mm (19.5")
Standard Controls
LED Control with USB charging
Note
Due to manufacturing tolerances and continual product improvement, this specification can be subject to a variance of (+ or - 3%). The information contained herein is correct at the time of publication; we reserve the right to alter specifications without prior notice.
Overview
Download our
product brochure
Download our product brochure here to get an overview of our 2021 product range!
Comfortable letterbox style backrest
LED Control with USB charging
Control your powered headrest, lumbar support and independent dual motors to find your perfect position. Also featuring a handy USB charging port and LED lights, which help to pinpoint your chosen position.
Dual motor controls with USB port
This remote allows you to control the independent dual motors of your riser to find your perfect position. Also featuring a handy USB charging port and LED lights, which help to pinpoint your chosen position. Featuring a handy USB charging port and LED lights, which help to pinpoint your chosen position.
Footrest extension
10" powered headrest
Infinite positions available

Infinite position, allows you to switch between functions to reach an optimised comfort.

Available in standard and compact sizes