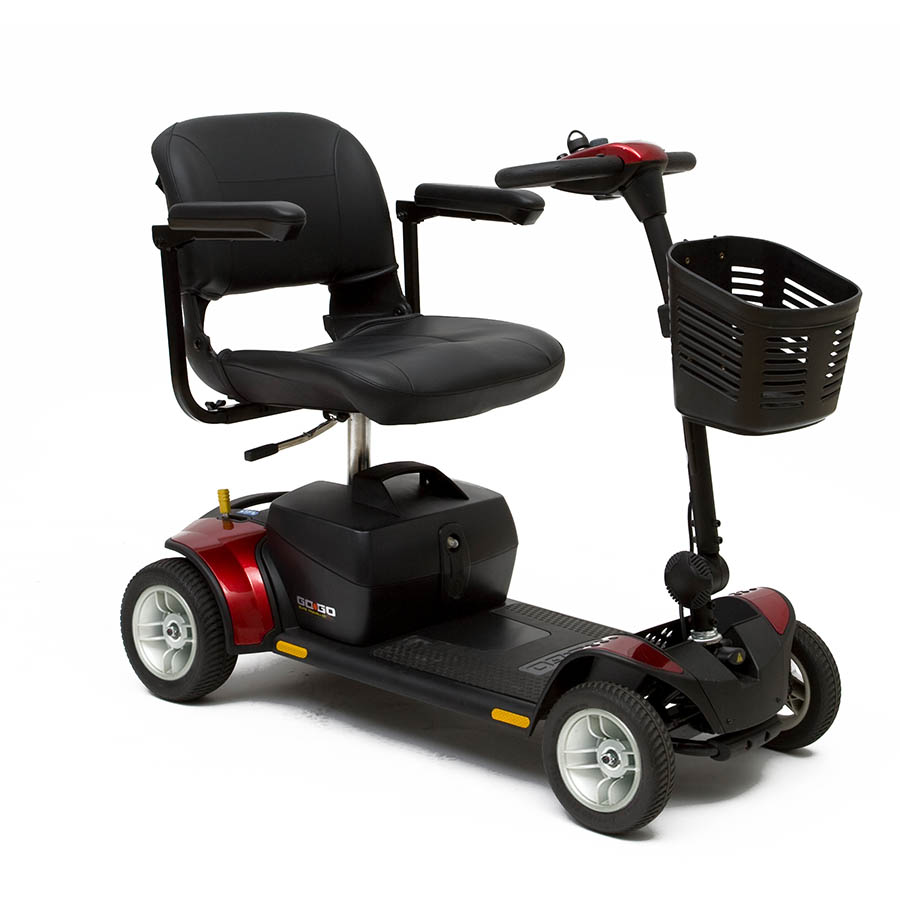 Go Go Elite Traveller Plus
Range up to 20.3 km
Up to 6.4 km/h
44 kg
MDR Class I (2017/745/EU) Medical Device
Perfect for travelling, PLUS so much more! The Go Go Elite Traveller Plus® offers easy disassembly and includes an ergonomic tiller for one-handed operation. Today's fast-paced world is no match for this stylish and portable scooter.
Mobility scooter combines power and portability
When it comes to portable mobility scooters, the Go Go Elite Traveller® Plus feels like the ultimate travel hero, travelling up to 4 mph and with a weight capacity of 23 st 3 lbs.
The Go Go Elite Traveller® Plus 4-Wheel proves that you don't have to sacrifice portability for power. With feather-touch disassembly, it easily disassembles into five lightweight pieces that fit into virtually every car boot, topped with power, comfort, and style.
The secret to this scooter's superior mileage and portability is in the dual 18-amp-hour batteries. Most portable scooters on the market today come with 10-amp or 12-amp batteries. With the right power, advanced design, and unmatched craftsmanship that comes with a Pride Mobility device, the Go Go Elite Traveller® Plus keeps you moving through all of life's adventures.
Specifications
Weight capacity
23 st 3 lbs (136 kg)
Maximum speed
4mph (6 km/h)
Ground clearance
38 mm
Turning radius
3W: 876 mm
4W: 1162 mm
Overall length
3W: 1016 mm
4W: 1023 mm
Overall Width
540 mm
Tyres
3W: 8" solid
4W: 9" solid
Total weight without batteries
3W: 39.2 kg
4W: 44 kg
Heaviest piece when disassembled(Front section)
3W: 15 kg
4W: 16 kg
Standard seating
Type: Folded
Material: Black Vinyl
Width: 432 mm
Depth: 432 mm
Weight: 10 kg
Drive System
24-volt DC motor, rear-wheel drive, two-motor
Dual Braking System
Regenerative and electromechanical
Batteries
Quantity: 2
Type: Sealed lead-acid, deep cycle
Size: 12 or 18 Ah
Battery weight
12 Ah: 8.8 kg
18 Ah: 13.4 kg
Battery Charger
2 amp off-board charger
Overview
Download our
product brochure
Download our product brochure here to get an overview of our 2021 product range!
Features
Feather-touch disassembly
Delta tiller with wraparound handles
Pride's exclusive black, non-scuffing tyres
Auto-connecting front to rear cable
Includes 2 sets of easily changeable coloured panels – Red and Blue
Front frame-mounted seat post offers maximum stability
Frame design easily disassembles into 5 super lightweight pieces for convenient transport and storage
Modular design for easy serviceability
Microprocessor-based controller offers optimal power management and added safety features
Front tiller-mounted basket
Removable footboard basket for additional storage (4-wheel version only)
Convenient off-board dual voltage charger can charge battery pack on-board or off-board