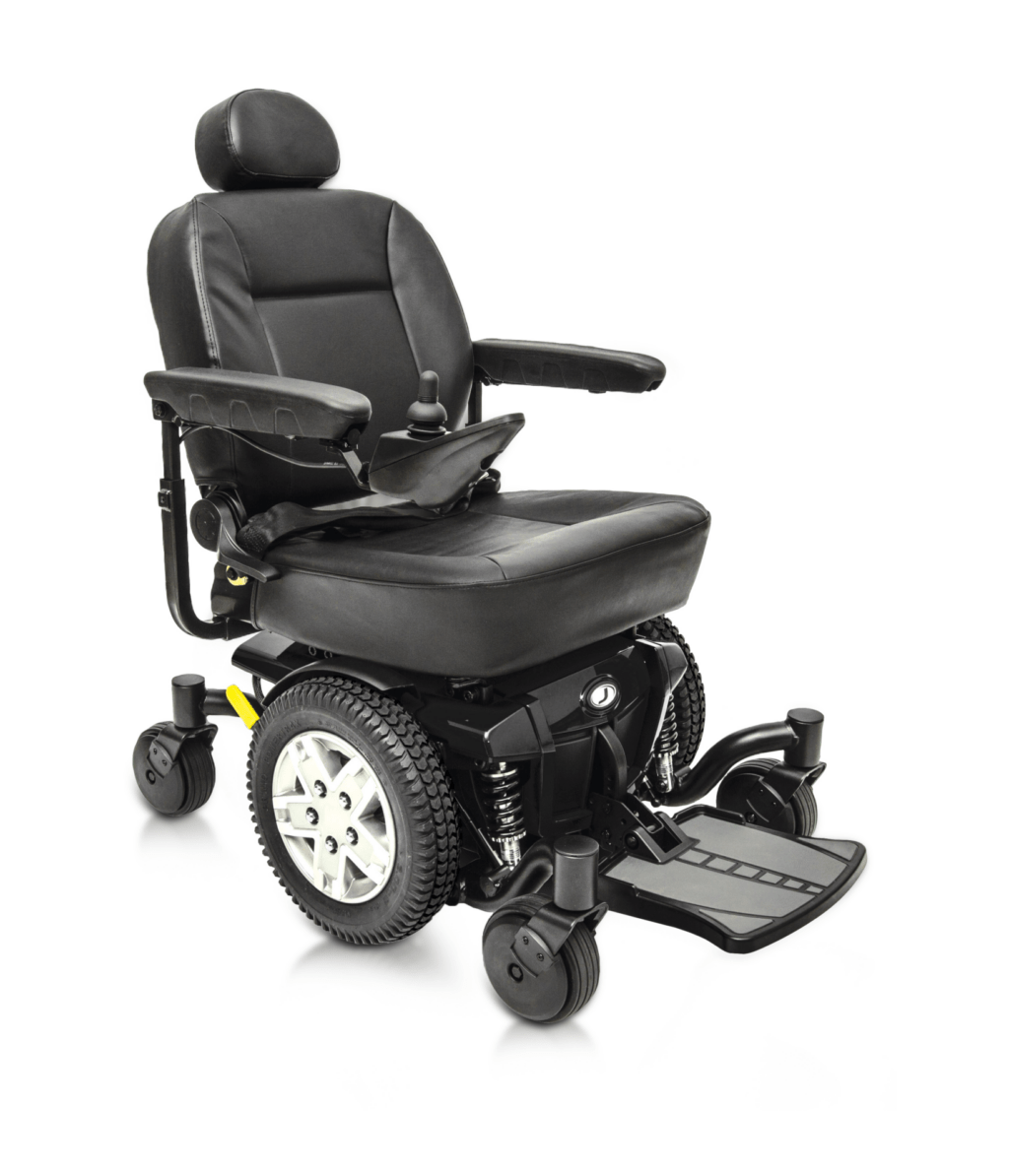 Jazzy 600 ES
Outstanding performance, excellent control
The Jazzy® 600 ES provides excellent performance and outstanding stability. Its compact design and standard Active-Trac® ATX Suspension allow it to excel indoors and out, making it a superb, all-around power chair choice.
Specifications
Weight Capacity
21 Stone 6lbs (136 kg)
Maximum Speed
4 mph (6 km/h)
Ground Clearance
7 cm (2.75")
Overall Length
90.2 cm (35.5")
Overall Width
62.2 cm (24.5")
Turning Radius
52.1 cm (20.5")
Standard Controls
PG VR2 Control
Total Weight (without batteries)
56.1 kg
Seating
Comfort High Back Seat 16" W -- Adjustable depth from 16" - 18" 18" W -- Adjustable depth from 18" - 20" 20" W -- Adjustable depth from 18" - 20"
Tyres
Castors: 15.24 cm (6") solid rear and front Drive: 35.56 cm (14")
Suspension
Active-Trac® (ATX)
Battery Requirements
Two 12-volt, deep cycle (standard) Size: 2x 50 AH
Battery Weight (each)
16.9 kg
Note
1. Due to manufacturing tolerances and continual product improvement, this specification can be subject to a variance of + or - 3 %.
2. Specification varies with user weight, terrain, battery type, battery condition and tire pressure.
3. Battery weight may vary based on manufacturer. Tested in accordance with ANSI/RESNA, WC Vol. 2, Section 4 and ISO 7176-4 standards. Results derived from theoretical calculations based on battery specifications and drive system performance. Testing conducted at maximum weight capacities. This specification can be subject to a variance of +10%, -5%. The information contained herein is correct at the time of publication; we reserve the right to alter specifications without prior notice.
Overview
Download our
product brochure
Download our product brochure here to get an overview of our 2021 product range!
Features
OMNI-Casters -Spherical caster shrouding design to prevent hang-ups when climbing
Active-Trac® ATX Suspension -Enhances comfort and performance
Large 14" Drive Wheels- Exceptional traction on varied surfaces
Easy-Access Freewheel-Freewheel levers are easily accessed for caregiver assistance