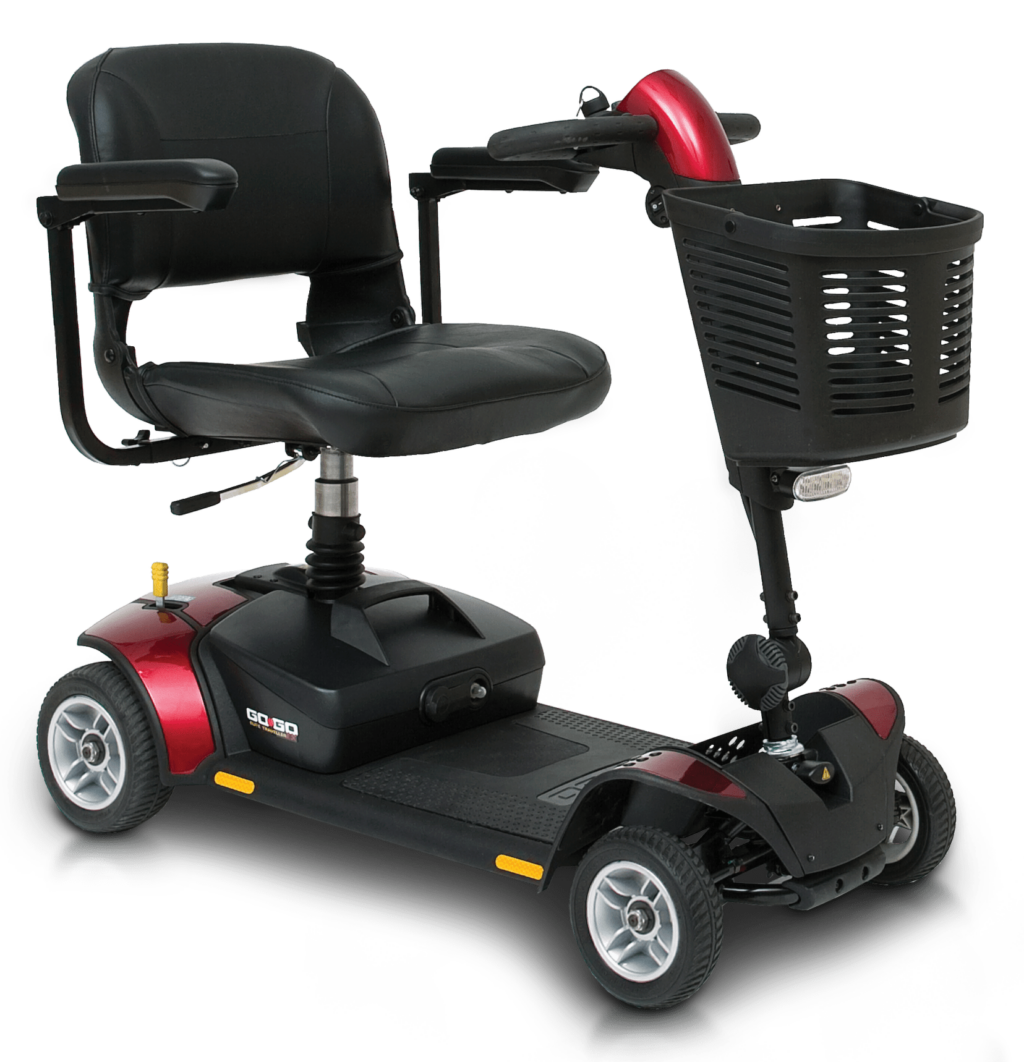 Go Go Elite Traveller LX
MDR Class I (2017/745/EU) Medical Device
There's smooth, and then there's the Go Go® Elite Traveller LX! From the park to your garden, this feature-rich scooter offers best-in-class ride quality. The Go Go® Elite Traveller LX mobility scooter offers luxurious features with convenient functionality such as a wraparound delta tiller with a high-level charging port, LED curb light, and a large storage basket together all within a compact, easy-to-transport design. Sleek styling complements the Go Go® Elite Traveller LX's abundant features making it an exceptional travel mobility choice.
Specifications
Weight capacity
19st 9lbs (125kg)
Maximum speed
4 mph (6 km/h)
Ground clearance
63.5 mm
Turning radius
3W: 851 mm
4W: 1385 mm
Overall length
3W: 1010 mm
4W: 1060 mm
Overall width
495 mm
Tyres
3W: Front: 8" solid
4W: Front: 7" solid
3W and 4W: Rear: 8" solid
Total weight without batteries
3W: 35.8 kg
4W: 35.8 kg
Heaviest piece when disassembled
3W: 15 kg
4W: 17.75 kg
Standard seating
Type: Molded Plastic
Material: Black Vinyl
Width: 432 mm
Depth: 432 mm
Weight: 10.5 kg
Drive System
Rear-wheel drive, sealed transaxle, 24-volt DC motor
Dual Braking System
Regenerative and electromechanical
Battery requirements
Quantity: 2
Type: Sealed lead-acid, deep cycle
Size: 12 or 18 Ah
Weight batteries
12 Ah: 8.8 kg
18 Ah: 13.5 kg
Overview
Download our
product brochure
Download our product brochure here to get an overview of our 2021 product range!
Feather-touch disassembly for simple frame separation
Exclusive black, non-scuffing tyres
Auto-connecting front to rear cable
The front frame-mounted seat post offers maximum stability
Frame design easily disassembles into 5 lightweight pieces for convenient transport and storage
Includes 2 sets of easily changeable coloured panels in 2 colours – Red and Blue
Modular design for easy serviceability
Microprocessor-based controller offers optimal power management and added safety features
Front basket included
Battery packs contain 2 x 12-volt batteries to power the 24-volt system
Delta tiller with wraparound handles
Charger XLR port incorporated in tiller allows charging without removing the battery box
LED curb light