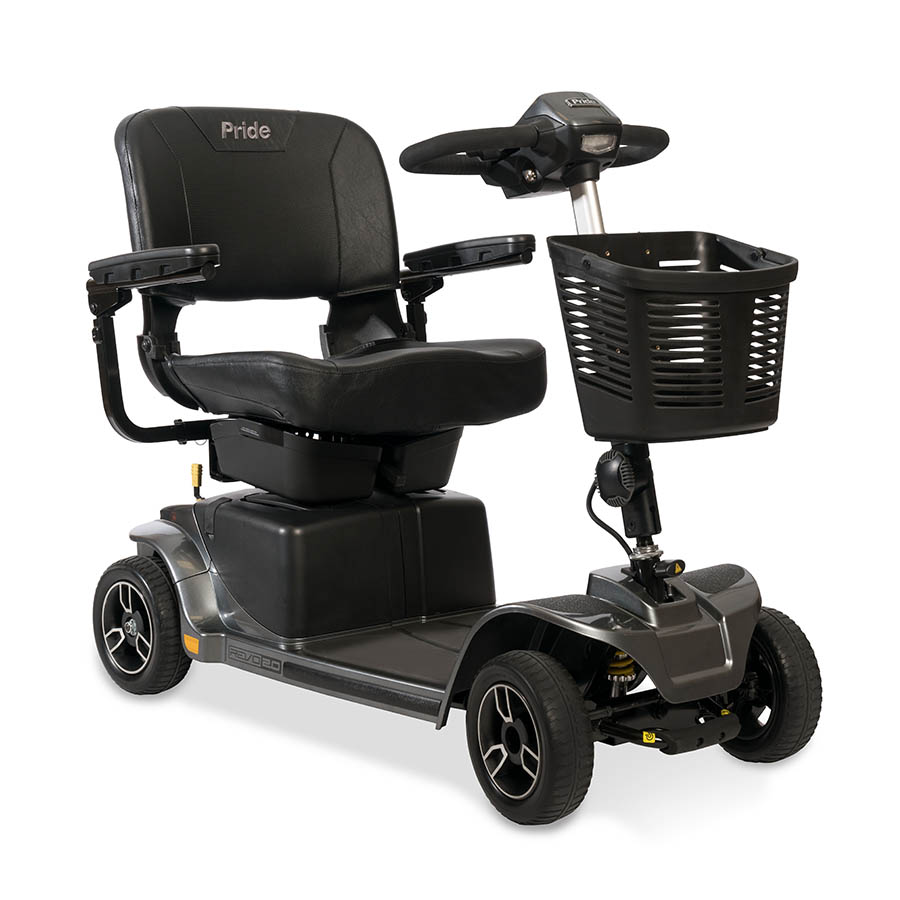 Revo 2.0
MDR Class I (2017/745/EU) Medical Device
Experience the Revo® 2.0, a rugged scooter that combines an array of features into one great package. Tough and built to last, the Revo® 2.0 offers the dependability you expect from a luxury scooter. Comfort-Trac Suspension (CTS) ensures a smooth and comfortable ride over varied terrain. Experience convenient, feather-touch disassembly as well as standard under-seat storage and speeds up to 5 mph.
Ride on with the Revo® 2.0!
Specifications
Weight capacity
26 st 7 lbs (170 kg)
Maximum speed
4 mph (6.4 km/h)
Overall Length
1194 mm
Overall Width
525 mm
Tyres
228.5 mm Solid or Pneumatic
Suspension
Comfort Trac
Ground clearance
32 mm
Turning radius
1323 mm
Weight without batteries
60 kg
Standard seating
Type: Foldable plastic
Material: Black Vinyl
Width: 508 mm - 432 mm
Depth: 457 mm - 432 mm
Weight: 12 kg
Drive System
Rear-wheel drive, sealed transaxle, 24-volt DC motor
Dual Braking System
Regenerative and electromechanical
Batteries
Quantity: 2
Type: Sealed lead-acid, deep cycle
Size: 30 Ah
Weight batteries
11.5 kg
Overview
Download our
product brochure
Download our product brochure here to get an overview of our 2021 product range!
Comfort-Trac front and rear suspension
Durable and stylish rear bumper
Easily adjustable tiller
Easily charge the batteries on or off the unit
Pride's exclusive black, flat-free, non-scuffing tyres
Seat designed for extreme comfort
Standard front basket
Standard under-seat storage
70 amp controller
User-friendly console
USB mobile device charging port