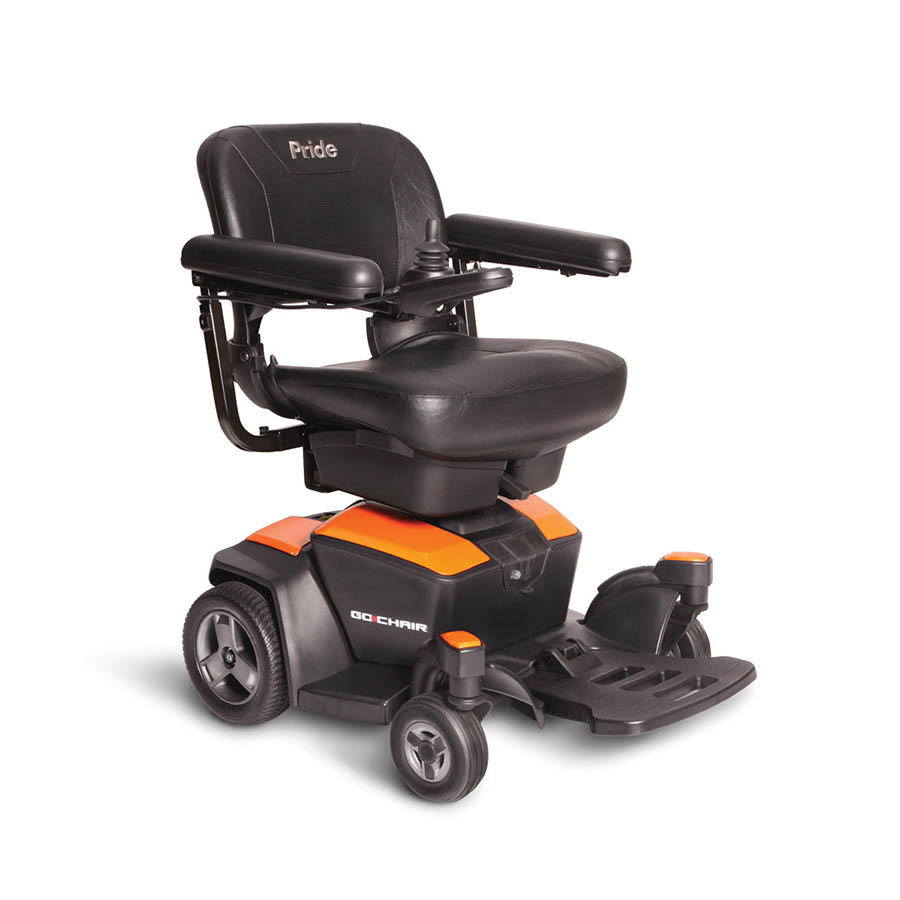 Go Chair
MDR Class I (2017/745/EU) Medical Device
Small, light and portable
When it comes to electric wheelchairs, we changed up the game with the Go Chair.
To start, we included standard comfort features such as providing two seat width options (508 or 457 mm width) with swing-out storage compartments below it. There's also an accessory mount on the back, so you can add a cane holder or oxygen holder that you might need for your next journey.
Then, we took the exclusive feather-touch disassembly design popular in our mobility scooters and applied it to this electric wheelchair making it more portable. In a few simple steps remove the compact foldable seat, then separate the front and rear sections with one release lever, and you're ready to go! The heaviest component weighs just 16 kg.
Will a portable electric wheelchair meet my needs?
Fear not - the Go Chair boasts a battery capacity that will carry you up to 21 km on a single charge with speeds up to 6 km/h. We've created portability without sacrificing speed and range.
If you need a portable electric wheelchair option that still provides a high level of maneuvering control, you may have just found what you're looking for in the Go Chair by Pride. With a 136 kg weight capacity, it still turns on a dime with a 647 mm turning radius. That means you can easily navigate tight corners indoors.
Specifications
Weight capacity
21st 6 lbs (136 kg)
Max. speed
3.7 mph (5.2 km/h)
Turning radius
648 mm
Length
842 mm with front riggings
725 mm without front riggings
Width
575 mm
Tires
Drive wheels: 9" solid
Caster wheels: 6" solid
Rear anti-tip wheels: 3" solid
Heaviest Piece when disassembled
16.5 kg
Drive system
Two motor, rear-wheel drive
Dual Braking System
Intelligent brakes (electronic regenerative, disc park brake)
Batteries
2 x 18 Ah, 12 volt
Charger
2-amp, off-board
Overview
Download our
product brochure
Download our product brochure here to get an overview of our 2021 product range!
Features
Choice of 6 colours
457 x 432 mm, 5-point swivel seat with latch release
Increased 136 kg weight capacity
Max speed of up to 6 km/h
Improved agility – longer wheelbase; wider stance; compact turning radius 645 mm
Dual swing-away, under-seat storage bins
Larger, height & width adjustable armrests
Larger footplate
One hand feather-touch disassembly